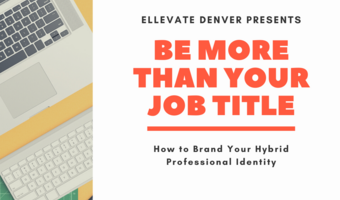 If you do more than one thing, then you ARE more than one thing. Instead of being either an expert or a generalist, or saying you "wear a lot of hats," learn to articulate and communicate your unique value at the intersection of your work identities. This is called your hybrid professional identity, and it's your competitive advantage in the workforce.
Key Learning Objectives:
The difference between hybrid professionals, experts, and generalists
Why hybrid professionals are critical to the workforce and what to consider when meeting/hiring/managing them
Tools for how to explore the intersections of your professional identities
Tips for how to rethink a better title for yourself that conveys your unique value
Featuring Dr. Sarabeth Berk
Dr. Sarabeth Berk is the leading expert on hybrid professional identity, and a hybrid professional herself. She was featured in Forbes, and is a TEDx speaker, author of More Than My Title, and recipient of a Colorado Inno on Fire award for her innovative work. Her hybrid title is Creative Disruptor because she works at the intersection of being an artist, researcher, educator, and designer.
Through groundbreaking research, Sarabeth developed a one-of-a-kind approach that takes personal branding and career development to a whole new level. Today, she helps professionals discover and articulate their hybrid professional identity and unique value in the workforce. As a result, her clients feel more seen, empowered and confident, and teams recognize each other as more than their job titles, valuing the critical yet different roles of experts, generalists, and hybrids in the workforce.
Sarabeth obtained her PhD from the University of Denver, and has degrees from the School of the Art Institute of Chicago and Rhode Island School of Design. A few fun facts, Sarabeth serves as a mayor-appointed council member on the Denver County Cultural Council, was an art teacher in The Bahamas, and started her career as a ski instructor in Aspen.