"I'm a Scorpio, so the number one way to ensure I do something is to tell me I can't!"
–Kate Maller
"From the moment I sat behind a Jeweler's bench at my first metalsmithing class, I knew I had found something special." Kate Maller was in her final year of her dual Master's degree program, and dipping her toes into metalsmithing for the first time. She remembers sitting behind the bench sawing through silver, overcome with a feeling of complete satisfaction, amazement, and intense curiosity. She became enamored with the tactile process of making.
Flash forward a handful of years, and Kate is now in full pursuit of jewelry making as her sole vocation.
As a jewelry maker, Kate draws inspiration from her surroundings, experiences, and travels. A recent trip to Bali for a wedding has catalyzed her newest creative endeavor: A bridal line of alternative engagement rings and wedding bands.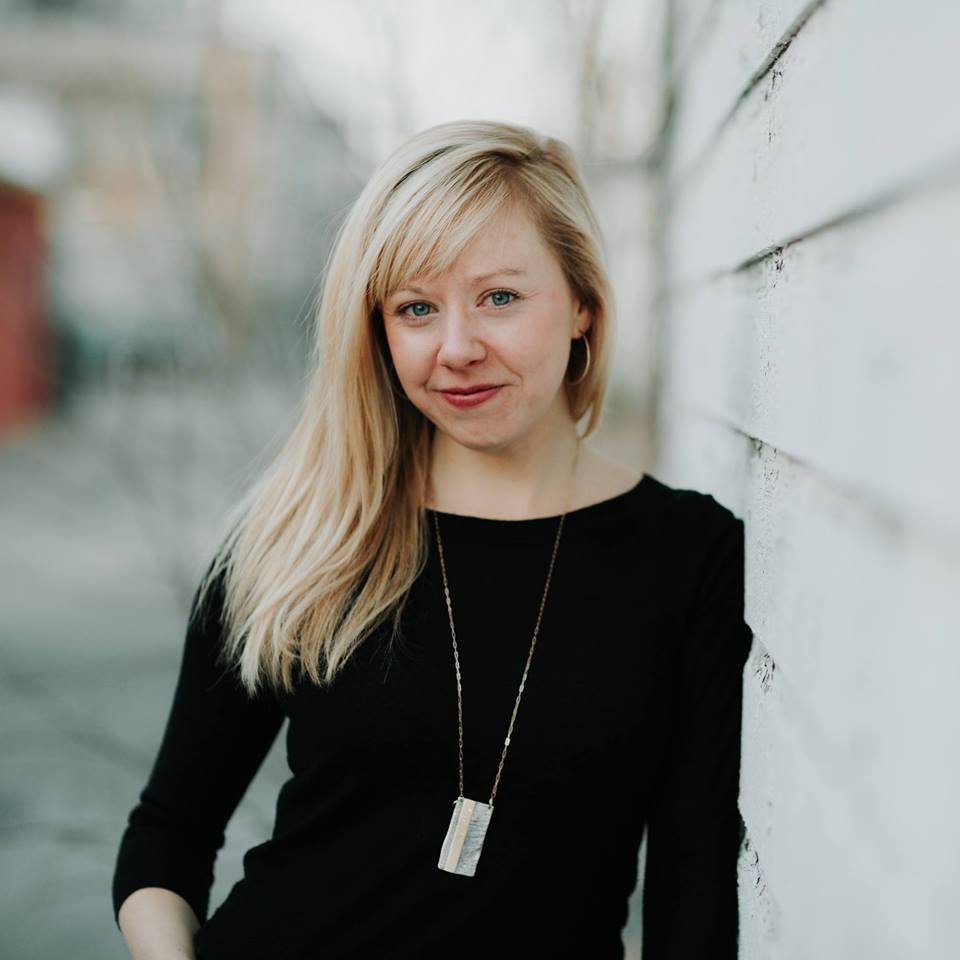 The line will be made of high-karat gold  paired with reclaimed opaque and brilliant diamonds; all materials will be fair-mined, recycled, and/or reclaimed. She finds a distinct joy in creating wearable objects imbued with such intense and special meaning.
Kate's favorite part of her every day: Sharing her work with others. She draws a profound humbleness from creating pieces that cause others to "light up", knowing she's created something that they will treasure for a lifetime. By offering a line of engagement rings in addition to her custom work, she can lower the cost on select items, making her pieces more accessible to many who want to purchase and wear her designs.

Kate describes her work as highly process-driven, hands on, and opportunistic. She often sketches and deliberates design, but allows the real magic to emerge when she begins playing with the material, giving it a new life and form. Her overall design aesthetic is born from this intuitive, playful, and very much improvised process.

When it comes to her style, Kate prefers to celebrate the beauty of imperfection. While she has an innate sensibility for useful design concepts such as composition, color, scale, and order, she prefers to break tradition, and attributes her success to the uniqueness of her designs. For all intents and purposes, Kate Maller is a rule breaker, and does not intend to stop. "I love making," she states, "It satisfies my soul, and makes me feel both grounded and alive."

Aside from jewelry making, Kate has a deep and profound passion for preservation and sustainability. This longstanding commitment to environmental and social justice has shaped Kate's emphasis on sustainability, and has led her to promote sustainable initiatives through her craft. "I knew I couldn't source materials, or employ business practices that were harmful to the environment", she recalls, and has stayed true to that belief throughout her evolution.
Even her dream projects involve this commitment to the environment, including her dream of creating a one-of-a-kind run for her mother, her biggest fan. "I would use gold, hands down, it's my favorite material to work with", she notes, specifying: "18k and 22k yellow, alloyed by me, and recycled of course."

As an entrepreneur and a maker, Kate is constantly challenged, excited, and rewarded by her work. "When I look back at when I started 3.5 years ago, and even 1 year ago, I have come so far", she says, with the eagerness of a woman watching her business grow and flourish.
Describe the moment you decided to become a jeweler. From the moment I sat behind a Jeweler's bench, at my first metalsmithing class, I knew I had found something special. A jeweler's bench is a specific desk that is functional for jewelry making. It was my final year pursuing dual masters degrees, and my now husband had signed me up for metalsmithing, at my request, for a birthday gift. During my first night of class, while sitting behind the bench and sawing through silver I had this feeling of complete satisfaction, amazement, and intense curiosity. I instantly fell in love with the tactile process of making I discovered.
However, it wasn't until a couple of years later that I decided to pursue jewelry as my main vocation.
If you were handed any project in the world, what would it be? Who would you like to create something for? What materials would you use? Would it be a collaboration? With who? It would be a ring, because my favorite objects to make are rings! It would be for my mom, because she is my biggest fan, and has always been super supportive of all my endeavors and dreams. Plus, she's really open to my design sense! I would use gold, hands down, it's my favorite material to work with. It would be a combination of 18k and 22k yellow, alloyed by me, and recycled of course. It would have beautiful reclaimed opaque, and brilliant diamonds, be super sparkly, and make a big statement!
Tell us about a recent piece you've created that really stands out to you. What is it made of? Why was it created? What was your inspiration behind it? Currently, I'm working on developing a bridal line of non-traditional or alternative style engagement rings, and wedding bands. The line will be made of high karat, recycled or fair-mined, yellow and palladium white gold, as well as fair mined and reclaimed opaque and brilliant diamonds. This work stands out to me, because creating wearable objects imbued with such intense and special meaning brings some of my greatest satisfaction in my work.
Up to this point I have done mainly custom bridal work, and while this is a wonderful experience, it comes at a high premium in price due to the individual customized nature, which is very energy and time intensive. I know there are many people who love my unique designs, but don't necessarily have the extra in their budget to add on for custom work service. Thus, by offering a line, it will enable my clients to purchase and wear my designs at a cost that may be more suitable for their budget.
My inspiration behind this first bridal offering is my trip to Bali last summer. I was there for a wedding celebrating the love of two special individuals, and it has inspired this line. Bali has a sense of magic, and connection to the environment and the heavens that aligns with my senses, and gives this line a mystical celestial vibe.
You hand design every piece that you make. How does your process affect your design and visa versa? My design aesthetic is born out of my process. My work is highly process driven, and the process is very hands on, and in the moment. Often I sketch and make inspiration boards, but when I sit down and start playing with the material, that is when the magic happens. Most times the piece takes on a whole new life and form than what I had been planning/sketching. My creative process is intuitive, playful, and very in the moment, which is really fun for me! These qualities come through in the finished pieces.
Inevitably, when I have the distinct pleasure of talking with clients first-hand, or experiencing people's reaction to my work, my process always comes up. People are very drawn to, and curious about it. It's a passionate process that is driven by my affinity for exploration, and love of materiality. My designs are a direct reflection of that, and so they are intrinsically linked.
What design rule do you love to break? I love this! It reminds me of a conversation I had my second year of architecture studies in Boston. I'll never forget the instructor turning to me, somewhat exasperated and annoyed, and saying, 'you really don't fit the mold.' Well, I'm a designer. Who wants to fit 'the mold!?' I think I've always loved breaking most rules. I'm a Scorpio, so the number one way to ensure I do something is to tell me I can't! While I feel like I break a lot of rules without even thinking about it, I also attribute that to the success and uniqueness of my process and my work.
Fortunately, I also have an innate sensibility for useful design concepts like, composition, color, scale, order etc. In a more general sense my work breaks with traditions such as perfection, or being highly polished and refined. While this isn't necessarily a design rule, it has for a long period been a bit of a tradition in gauging the success or beauty of a piece of jewelry. Quite the contrary my work celebrates the beauty of the imperfections I admire in the world around. I absolutely love that my work breaks these 'rules,' and has an organic, edgy, non-traditional feel to it.
We know environmental sustainability plays a large part in the way you approach your work. Describe how this focus comes into play, and how that commitment has shaped the evolution of your craft/business. A longstanding passion for environmental and social justice has shaped my commitment to sustainability. It stems back to when I was studying in Boston. I found I was deeply concerned about the environment, and I knew that in my pursuit of making place I wanted to also change the world for the better. I geared my education, and professional pursuits towards all green initiatives I could. Therefore, when I began to pursue metalsmithing and build my own business, those same values carried over. I knew I couldn't source materials, or employ business practices that were harmful to the environment. My main objective starting out was to figure out how to establish reliable sources, and practices that would be sustainable. I must say, it was not easy. For instance, I recall asking people who had been in the business decades, and were masters of their craft, but they could not tell me where or how to get sustainably sourced gemstones. Environmental degradation and social justice are major concerns when it comes to mining and extracting the raw materials jewelers use.
I had to search long and hard to establish trusted sources, but I was committed to my values, and in the end, I was able to get it all worked out by the launch of my own line in 2016. It's not easy, and that's why many people don't employ these practices. Often I see beautiful stones, or metals I want to use, but they don't meet my high standards for sustainability, so I must pass. This has very much shaped my work and my business, and it has also connected me to clients who hold similar values, which means a lot to me. I truly believe you must practice what you preach, and 'be the change you wish to see in the world.'
How does your architectural background influence the way you approach your projects? Amongst many positive things, my architectural background has afforded me an eye for detail, an affinity for experimentation, and a sensibility for craftsmanship. It's given me an unique lens through which I see the world, and both challenge and engage with it. This unique lens has shaped my design inspiration, interest, process, and ultimately my body of work.
Additionally, my background in landscape architecture profoundly impacted my design sensibilities and aesthetic. Through it I discovered a love of all things landscape, and developed a design process that was highly intuitive and natural. My jewelry work is heavily inspired by landscape and the natural world, and I directly attribute that to my landscape architecture background.
What are you most excited about for the future of your business/industry? Having just launched my own jewelry line, and my first cohesive collection, I am excited for all that is to come. Being an entrepreneur and a maker is challenging, exciting, and rewarding. It's a lot of work, but often it doesn't even feel like work, because I love it so much.
When I look back at when I started 3.5 years ago, and even 1 year ago, I have come so far. I look forward to growing my business and sharing my art, and to see how it changes over time. As far as my industry, there are a lot of exciting things going on currently. The facet that most interests me is the push for greater sustainable practices and accountability. This is huge for me. As I mentioned earlier, it's not easy sourcing sustainable raw materials, but I see it as vital to the future of our planet. Therefore, to see industries and mindsets shifting and adapting is what I am most excited about.
What is your favorite aspect of jewelry making? What drives you to create? 100% my creative process. I LOVE making. It satisfies my soul, and makes me feel both grounded and alive. My passion for making drives me to create. A close runner up is sharing my art with others. It is deeply humbling and rewarding to see people light up when they put on one of my pieces. My intention has always been to make pieces that people would treasure forever, and pass down as future heirlooms, which is why I have always strived to work with the highest quality materials and for a high level of craftsmanship. Knowing that my passion and love of making, materiality, and the environment is passed on through my art, and that it then gives my clients a means to express their own values and individuality, while also bringing them joy, drives my passion to keep making.
What is the one piece of advice you would give to young women who are just getting started? As a maker, an entrepreneur, a small business owner I would say its really important to live your passion, stay positive, and don't give up. Whatever your creative desire is, I think its hugely important to seek out what makes you feel alive, and then follow that with your whole heart. Some of the best advice I got my first year of graduate school was along these lines, and it was some of the most beneficial advice, which helped guide me through all that I have pursued.