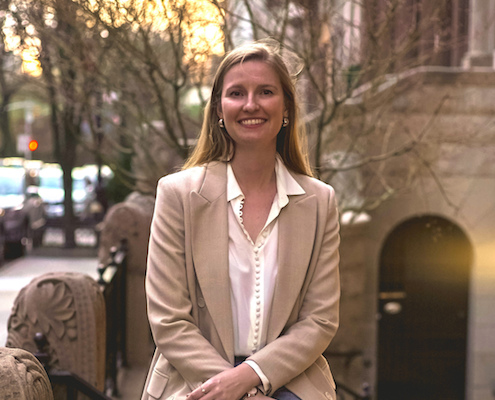 5 Minutes With Genevieve Bellaire
As the myth goes, college is supposed to prepare us for the "real world." Sure, it gives us great critical thinking skills and an excellent foundation for a career, but when it comes to teaching "adulting tasks"— health insurance, buying a car, negotiating your first apartment lease, filling out W-9s, and more — colleges are not exactly the launchpad for all the other parts of life post-graduation. 
After experiencing the challenges of navigating the world of COBRA health insurance, CEO + Founder of Realworld, Genevieve Bellaire, had an epiphany. "Why don't young adults have quick, easy access to information about how to handle 'real-world' tasks and avoid unnecessary mistakes?"
Having just wrapped her first round of fundraising for $3.4 million, the app Realworld has launched as the go-to source for young adults entering the "real world." 
Realworld simplifies adulthood by providing comprehensive guidance, tools, and resources around major life topics not covered in school- everything from doing your taxes, getting a credit card, budgeting to filling out employer paperwork—complete with guidance, tooling, and a marketplace of curated service providers. The free platform includes nearly 100 step-by-step "playbooks" to help users feel prepared for the foundations of adulthood.
TARRA sat down with Genevieve to learn more about what makes this young entrepreneur tick, where she finds her inspiration, ideas, and how she juggles a million tasks that face every startup founder.
What's your secret weapon? I always come prepared. Whether it's meeting with a new advisor, investor, hire, or current team member, I always do my homework beforehand and make sure I have time to collect my thoughts before I dig in. 
What was your last "aha" moment? I have had a few recently, all around the Realworld app! I don't want to give too much away, but I've been thinking a lot about how, while our platform is helpful as an individual, the material will really come to life when our members can talk to and help each other navigate milestones across finances, health care, work, and more! 
What are your mantra/words to live by? "Surprise and delight"—whether it's building a delightful product that simplifies adulthood or celebrating small victories, birthdays, or anniversaries as a team, Realworld is built on surprising and delighting.
If you could choose anyone as a mentor, living or dead, who would it be? Condoleezza Rice. Not only does she have an impressive career in public service, but she also has experience across so many areas of business and industry. 
When you need inspiration, where do you go/what do you do? I go for a walk! NYC has so much energy that there's usually something inspiring around the corner. I live on the Upper East Side, so I love walking the reservoir in Central Park or exploring SoHo, where our office is, and finding a new coffee shop. 
Something that you always have within arms reach: My Remarkable Tablet. This thing comes with me everywhere and saves me so much time and energy in searching for that note I wrote on a post-it that I can never find again. It's also great in a personal effort to use less paper and be more sustainable. 
What scares you the most? Mayonnaise. It just freaks me out!   
Currently reading/watching/listening to: 
Reading: Sapiens by Yuval Noah Harari 
Watching: Nine Perfect Strangers and White Lotus 
Listening: SmartLess with Jason Bateman, Will Arnett, and Sean Hayes
Worst advice you've ever been given: There are so many people who have told me to start charging for my time when it comes to giving advice or serving as a mentor, and I've never understood it. To me, mentorship is all about paying forward learnings to support others the way I was supported when I was starting out—sharing your experience to the next generation should be free! 
Describe what you were like in high school in 6 words or less. I said hi to everyone! 
Most used app on your phone? Realworld! A biased answer, but probably true. We just launched a redesigned version of the app last week, so it's been a great reminder to open it up and bask in the beauty of all our hard work come to life. 
If you had to break up with email or text, which would you dump? Email, though I just got Superhuman, and it's changed my relationship with my inbox for the best. I used to feel burdened by not being at inbox zero, but with new tools to organize and prioritize, it feels less like a chase and more like a manageable task. 
What's the title of your autobiography? "Never Skip Breakfast!" I'm a big believer in breakfast being the most important meal of the day, and the days I skip it are never my best. 
If you didn't have to sleep, what would you do with the extra time? I always say I wish I was one of those people who didn't have to sleep! There are never enough hours in the day to accomplish everything on the list. If I didn't have to sleep (and if everyone else still did), I would probably spend more of the workday meeting new people. Then I could spend my newfound time at night catching up on email, strategic thinking, and reading. 
https://tarra.co/wp-content/uploads/2021/09/Genevieve-Ryan-Bellaire-1.jpg
400
495
Kate Bailey
https://tarra.co/wp-content/uploads/2022/02/logo.svg
Kate Bailey
2021-09-20 13:04:14
2021-09-21 09:55:20
5 Minutes With Genevieve Bellaire