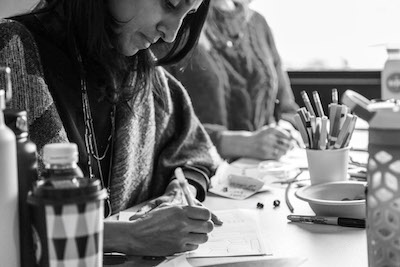 October 2021 Editor's Letter
A Better 2022 Awaits—But You Need is a Strategic Plan to Get There
I know it's tough to live in a hyper-positive headspace when most of us are running on empty, concerned about how the last (almost) two years of pandemic life will eventually play out.
However…
I am not going to let you stand still. We've done enough of that.
I'm here today to give you a gentle (yet firm) nudge to start planning again—your life, your career, and your businesses.
This isn't about filling your calendar with a hundred social events or about urgent "goal-setting agendas" that will fill your Instagram feed in January.
This is about strategic planning…with intention. If you want to roll into 2022 with a sense of purpose, you need to set yourself up for success now (not on January 3, 2022).
Why strategic planning vs. goal setting?
Setting goals without an actual roadmap to get there is like saying you are going to get up for a 5:30 am workout and not setting your alarm.
To get up and get out of bed on time, you need to outline the steps it will take to get there. 1. Book class, 2. Lay clothes out on a chair, 3. Set the alarm, 4. Set back-up alarm…you get the drill.
Why strategic planning works.
Look, I'm the first to admit that planning was rarely a part of my business (or personal life) in the beginning. I felt like most days, it was enough to just get through the workday without too many fires to extinguish and assumed that if I could make it to a 6 am spin class, I was handling my personal life just fine.
However, one year, two years, three years went by, and I felt like I was never moving the meter forward. My business was great but not growing. My fitness was fine, but I felt like I had plateaued. Not much was changing, and it began to feel a little like Groundhog Day.
When I started working with an Executive Coach, she encouraged me to start to actually PLAN what I wanted the future to look like, both personally and professionally. She told me to assess the present, decide what I wanted the future to look like (realistically, of course), then put action steps on paper that would allow me to achieve that future. Strangely, with those three simple steps, the meter began to move. I hired an assistant (goal for 2018) and finally hit five whole push-ups on my toes (goal for 2020), all with just a simple framework for incremental movement forward. The success wasn't due to big, complex, resource-heavy actions. It was due to small, simple, easy steps that I could achieve.
Keep reading for a little insight into how we think about strategic planning at TARRA today.
What is Strategic Planning?
An economist would tell you that "strategy" is about how you will increase the net profit of your company (i.e., the $$ that comes when you subtract the costs from the dollars you earn.)
If we apply that concept to all different aspects of our lives, I like to think of strategic planning as a roadmap to life, career, or business that feels better tomorrow than it does today. How much "better," well, that's up to you.
"Better" is effectively "net profit"—an incremental increase in the surplus that you get from a given activity. That surplus can be financial, or it can be a feeling.  You decide.
Perhaps "better" for your business means more hours in the day for you to spend with customers or clients, or maybe it means a 3x increase in revenue or 20% higher profit margin than the year prior.
Maybe "better" for your personal life is simply not waking up at 3 am worried about how the kids are handling the pressure of school work. Perhaps it's spending a little more time in nature to reconnect with your heart.
As for what "better" looks like professionally, we know The Great Resignation has opened opportunities to switch careers or ask for a promotion or raise. Or, maybe it's choosing to transition to freelance or gig work to give yourself more freedom to work when and where you want.
No matter what "better" means to you, the only path to success isn't to sit around and hope that it will happen. You need to drive that bus, and the only way to successfully get from point A to B is to actually have a roadmap of how to get there.
This analogy is stupidly simple, but unlike driving a car, there is no Google Maps to input a point B and automatically get a pre-determined roadmap to get there.
Fortunately, you have all the tools you need to create your own roadmap, and surprisingly… it's quite simple to develop a basic framework.
The hardest part is deciding what "better" looks like to you.
How do you develop a strategic plan?
There are truly a thousand ways to approach strategic planning, and there is no right or wrong answer. The general framework is:
Analysis of current situation—i.e., what's happening right now?
Set goals—i.e., what do you want the near future to look like?
Create a strategy—i.e., how will you get to the future you want?
Develop ways to measure your progress—i.e., is it revenue, knowledge, action, better sleep?
Get started—forward action is enough, don't strive for perfection
Measure results—i.e., Did you reach the goal? Why or why not? What could you do differently for a different outcome?
Pretty straightforward, isn't it?
Here's the most important thing to remember in all of this. We humans are incredibly competent at making life WAY more complex than it needs to be. Anxiety, feelings of inadequacy, imposter syndrome, cognitive bias, and so much more come into play when we say "I can't" or "it won't work" or "who am I to think that I'll ever get there."
As a business owner and startup founder, I have learned:
Real, meaningful change doesn't happen overnight
Improvement takes time, patience, and resources
If you want positive change to happen, you have to be intentional about it. At a minimum, you need a general idea of where you want to go, or you will end up somewhere you don't want to
There is always a trade-off. You don't get to have your cake and eat it, too
The above summary of strategic planning is simplified for the purpose of this letter. But I also know that a simple, achievable process is what we all need right now to dip our toes back into what "real life" looks like. We can't go from 0 to 60 mph overnight, so this exercise is meant to encourage you to simply start to think about what it will look like to move forward with life into the new post-pandemic world ahead.
Be gentle with yourself in this process. Give yourself the grace to choose easy "betters" to start with, and then as you get "better" at those, choose something a little more lofty, a little more difficult to reach for.
It will be 2022 in no time. Our first TARRA Campus will be open by the middle of the year, and I am hopeful that we will become your space to dream, to hope, to develop new ideas, and find all the resources, network, and tools you need to achieve your "better."
https://tarra.co/wp-content/uploads/2021/10/TARRA.jpg
267
400
Kate Bailey
https://tarra.co/wp-content/uploads/2022/02/logo.svg
Kate Bailey
2021-10-05 09:52:59
2021-10-05 15:40:35
October 2021 Editor's Letter